About Yu Yo
Press by the Coast News:
Yu Yo makes space for craft
Yu Yo Craft Supply + Tea House is growing the craft community by bringing people together.
Posted

By

Aya Hilmi Al-Hakim on

Thu, Jan 5, 2017

at

4:00 AM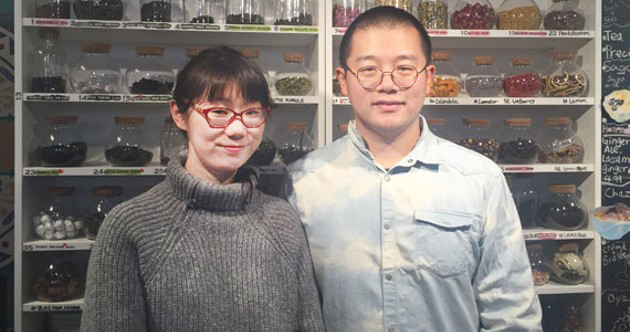 AYA AL-HAKIM
Mengnan Qu and Yu Xia think "learning a craft from a different culture is the best thing."
Local craft supply shop and teahouse Yu Yo Craft Supply + Tea House(1498 Lower Water Street) is encouraging people to learn an art form or craft by offering old and new creative workshops every month. Yu Xia and MengnanQu opened the shop last April, where they teach classes in bookbinding, Chinese calligraphy, tea ceremony and more.
"We make sure the student gets the professional knowledge and to have one finished project after the workshop is done, as a way to trigger their passion for craft," Xia says.
Xia and Qu first got the idea of a craft supply shop in 2011 when they were still students at NSCAD University. "At that time NSCAD students had a hard time buying materials, especially in jewellery design, natural dyes and fabrics," says Xia, who graduated with a major in craft.
To make materials, such as wires and silver sheets, available for students, Xia and Qu launched an online craft supply store with the same name, but it wasn't as successful.
"We think Halifax is still an old-fashioned place with people still doing indoor shopping more than online." Now, the owners are offering craft and art materials, through their physical and online store, not just for art students and professionals, but also for the general public.
"We found a disconnection between the professional side of art and craft and the general public," says Xia. "There are open courses in NSCAD, but many people don't have the confidence to take long-term classes, so we start off with one or two classes here."
In offering the workshops, Qu, a professional jeweller, says that it brought them closer to the community. The shop also serves traditional Chinese tea, imported from China, as well as snacks made using ingredients from the neighbouring Historic Farmers' Market.
"Ever since I was a child I had a dream of having a little store and teahouse to share it with friends, like a Chinese salon, where people gather to make and talk about art."
Even though the shop hasn't been open for long, Xia and Qu say that they are proud to have been sharing their professional knowledge and Chinese culture with others.
"You need some communication between cultures to bring them together in a friendly setting," says Xia. "And I think learning a craft from a different culture is the best thing."
After taking a Chinese painting workshop, Ho Ching Chan, a jeweller, believes that it will give people more confidence. "This is important to the community because not a lot of people are into crafts," says Chan. "But a workshop can give you an experience to just learn and have something fun to do."
Press of The Chronicle Herald - DaKai Maritimes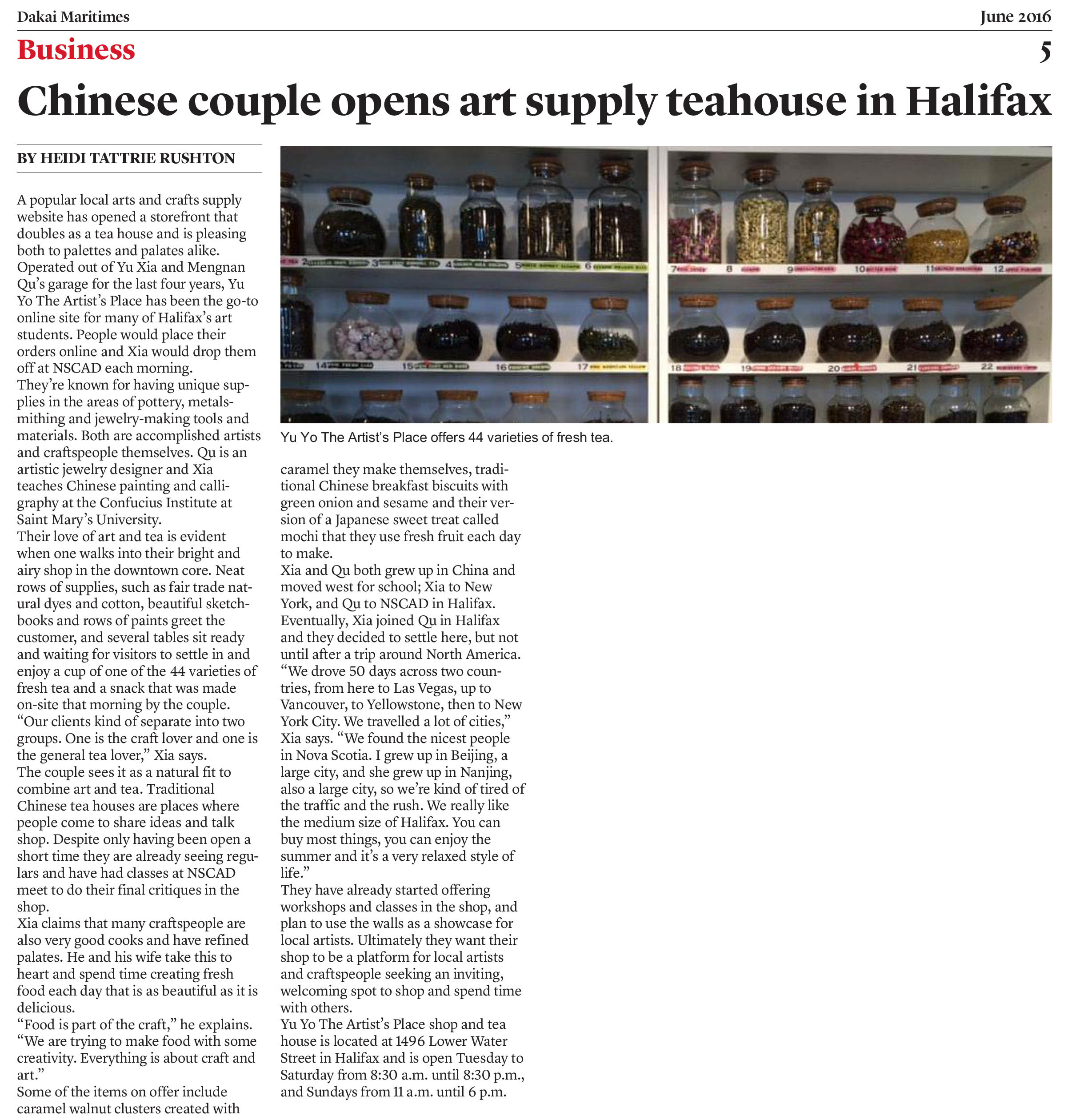 NSCAD Interview
Alumni profile: Mengnan Qu and Xia Yu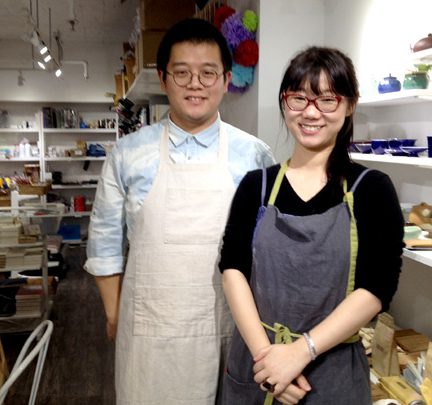 Yu Xia and Mengnan Qu of Yu Yo Craft Supply and Tea House in Halifax's Brewery Market, Lower Water Street.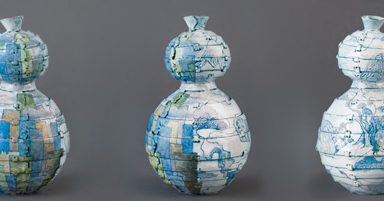 By Mengnan Qu, from the Hornor for Series.
Married in 2013, the couple, who met in high school in Beijing, came to Halifax to study at NSCAD University—Mengnan in Jewellery and Metalsmithing and Yu in Sculpture. Following their BFAs, they went to do their master's degrees in New York City, where Mengnan went to study with "enamel god" Jamie Bennett at New York State University and Yu at the Academy of Art.
After New York, they were eager to return to Halifax. "We want a quiet life so that we are able to do work and enjoy life," says Mengnan, a four-time Niche finalist in the professional categories and a Niche Student Award winner in 2012.
They also saw an opportunity in Halifax: to start an art supply business specializing in jewellery and metalsmithing supplies. Yu Yo Craft Supply + Tea House began online five years ago. Last year, they opened a bricks-and-mortar shop in Halifax's Brewery Market, and added a tea room. They've expanded their stock to include pottery supplies, natural dyes, and modelling supplies for architects. They also hold a variety of workshops, for example Chinese Calligraphy, Chinese ShuiMo Painting, and Stamp Making. On January 27, they'll hold a Chinese New Year celebration.
"I think what we learned at NSCAD is that you use your hands. You do everything," says Yu.
"The undergraduate programs are at a very high level. The professors have a lot of time for students and you learn a lot from classmates too," says Mengnan. "With the shop, we wanted to support that learning."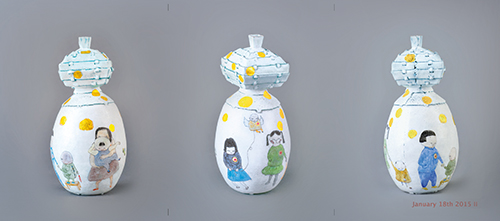 Mengnan Qu uses the shape of the calabash to tell the hidden stories of China's one-child policy.