Description
Paragon Xpress-E-10
The digital Xpress-E-10A fires to 2000°F- ideal for enameling, china painting, glass art and jewelry. The digital Sentry Xpress controller includes temperature hold, making this kiln suitable for silver clay. The 3-key digital controller is in the base. The front control panel is tilted for easy operation of the digital controller. Because this model no longer has the side-mounted switch box, it saves tabletop space.
Unlatch and open the door with one hand; the latch operates so smoothly that delicate copper enameling or silver clay pieces remain undisturbed while opening or closing the door.
The door opens smoothly on a heavy-duty 1/2" hinge shaft. The firebricks store heat for quick temperature recovery after removing a copper enameling piece.
The Sentry Xpress 3-key controller is packed with features. It includes two modes: Single Segment and 8-segment Ramp-Hold.
Features of the Sentry Xpress 3-key Controller on the Paragon Xpress-E-10
Design programs with up to 8 segments (steps) in Ramp-Hold mode.
Fire to a single temperature at a single speed in the simplified Single Segment mode.
Ramp-Hold mode can store 4 programs.
Skip Segment feature in Ramp-Hold mode
Temperature hold
The Sentry Xpress can control both heating and cooling.
Program Review lets you check that the program you are about to fire is correct.
Temperature Display throughout firing and cooling in your choice of °F or °C
Error Messages report mechanical problems such as a disconnected thermocouple, stuck relay or broken element.
12 Month Warranty
LED Lights show whether you are in program, review, or firing mode.
The heating element, exposed in dropped, recessed insulating firebrick grooves, is easy to replace. It needs no element pins. Unlatch and open the door with one hand. No extra stand is needed; the built-in base stays cool during operation.
Thermocouple with "special limit" wire

The thermocouple senses temperature inside the kiln. It is the small rod that extends into the firing chamber. The ¼" wide Type-K, 14-gauge, exposed-tip thermocouple is made with special-limit wire for superior accuracy. The exposed tip gives the controller a fast response time for even temperatures during holds. The thermocouple is made in America to our exacting standards.
The Xpress-E-10 can now ship by UPS. Enjoy lower shipping cost and faster service. Specially designed cartons and foam padding assure that the kiln will arrive safely.
Paragon kilns are built to be dependable. They are loaded with attention to details, such as the costly nickel-plated copper wire with high temperature glass-braided insulation. Wires are fastened to the elements with heat-dissipating connectors refined and proven over many years in Paragon kilns.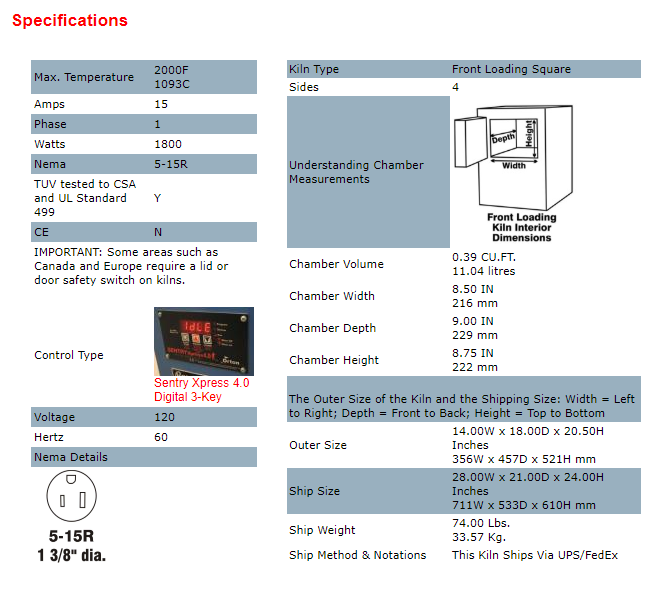 Disclaimer: The specifications above assume that the kiln will be plugged into a dedicated circuit. Local electric codes supersede our recommendations.
SHIPPING INFO
This item is avaible as a preorder, which means it will take about 2-4 weeks to fulfill the order before it is shipped out.
Shipping costs will be calculated after the order is placed, and will vary depending on location of shipping address.
View All
Close